Sedona, Arizona is a town of over 10,000 people, with an elevation of 4,500 feet, and 4 mild seasons. It is located 90 minutes north of Phoenix, Arizona and 30 minutes south of Flagstaff. Sedona straddles the county line between Coconino and Yavapai counties in the northern Verde Valley region of the U.S. state of Arizona.
Sedona is one of the country's best places to visit to get a break from everyday life. Surrounded by 1.8 million acres of national forest land and buttressed by four wilderness areas and two state parks, this is a landscape built for adventure. Many people find that just seeing the iconic red rocks of Sedona will leave them awestruck by the majestic crimson rock formations and perhaps feel the energy for which this area is known.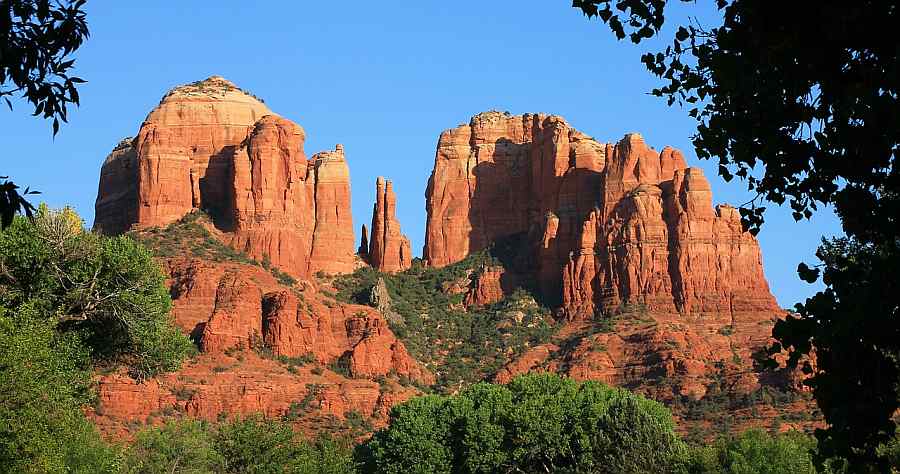 Sedona's main attraction is its array of red sandstone formations. Multi-hued stone formations jut upwards from the high desert floor creating a vivid, mesmerizing setting that changes hourly with the light. The formations appear to glow in brilliant orange and red when illuminated by the rising or setting sun. The red rocks form a popular backdrop for many activities.
For the adventuress, hikers amble over wild country trails that loop through a labyrinth of stone towers. Mountain bikers have 300+ miles of trails to enjoy. Jeeps rumble into the outback and perform acrobatics across sandstone outcroppings. Kayakers paddle through fast moving currents while anglers work the pools for elusive trout. Hot air balloons lift off early each morning to greet the rising dawn. Helicopters provides fun excursions of the high-walled canyons. There are many thrills to enjoy.
There are many amazing places to visit like Montezuma's Castle and world famous high energy Vortexes. Sedona attractions that often top the "must see in Sedona" lists are Tlaquepaque Arts and Crafts Village, Sedona vortex spots, Oak Creek River, and Slide Rock State Park.
Sedona shopping is one of the most popular Sedona activities. Clothing, antiques, furniture, collectibles and gifts abound at one-of-a-kind boutiques, gift shops and prestigious Sedona art galleries. There are five major shopping districts in Sedona.
From art studios and workshops to art galleries in Sedona, Arizona to the Sedona Arts Center, you'll find the arts well resented. There is fine art, contemporary art, photography, bronze sculpture, Hollywood memorabilia and other art experiences. Sedona's artists and art galleries have art accessible to everyone, from the serious collector to the casual appreciator.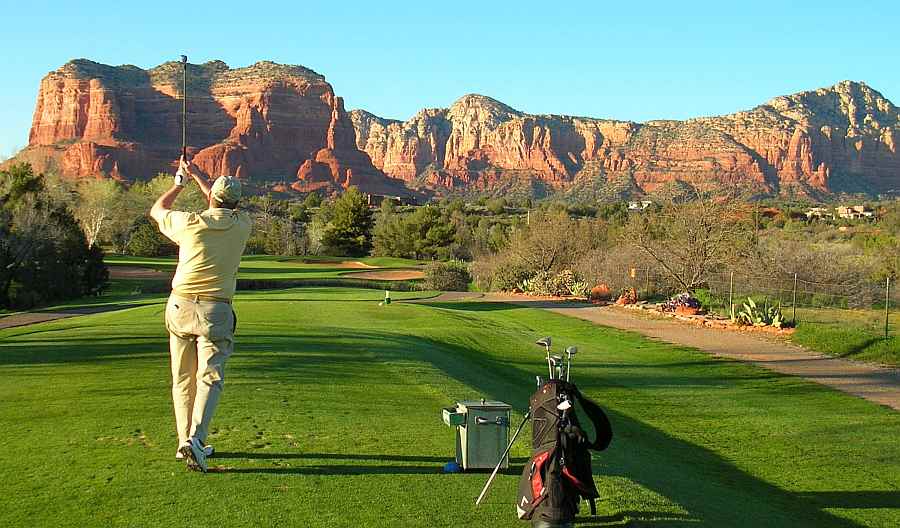 For those who enjoy a leisurely but challenging game of golf, you'll enjoy what Sedona has to offer. Stroll verdant fairways and lush greens framed by crimson-hued monoliths.